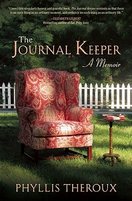 I just finished reading the newly published journal of author Phyllis Theroux, "The Journal Keeper." It's a six-year look at her life when she was going through many changes in her sixties. Theroux is an intellectual and the book, while warm and very accessible, is also chock full of great literary quotes and her thoughts on some of the authors she is reading. Having kept a journal for many years, I have always been interested in reading published journals and thoroughly enjoyed this one. Some can be quite tedious, but "The Journal Keeper" is never dry and flows like a narrative with snippets that are sometimes only a paragraph long. It's also a book that I can see being very inspirational for those considering keeping a journal.
Phyllis Theroux's Journal Keeper website is worth looking through as well. She even offers some tips and thoughts on journaling as she reads an excerpt titled, "If You Want To Keep A Journal."
I'm also a collector of journals and books on journaling — this one is a keeper.
"What a wonderful, wonderful book! I felt like I was on a little journey. It really made me think beyond the page. The Journal Keeper reads like a case study of a person's life. You will read it more than once."
– Amy Sedaris, author of the New York Times best-selling I Like You: Hospitality Under the Influence
"I loved this singularly honest and graceful book. The Journal Keeper reminds us that there is no such thing as an ordinary moment, and certainly no such thing as an ordinary life."
– Elizabeth Gilbert, best-selling author of Eat, Pray, Love
"Deep thoughts surrounded by stylish writing…"
– Kirkus