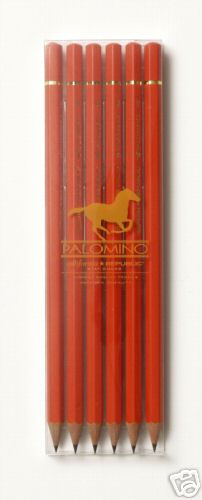 Many of us have only recently been introduced to a great new pencil called the Palomino, a product of California Republic Stationers. The pencils are sold at the The Pencil World Creativity Store on eBay, which is run by Charles P. Berolzheimer II. Who is this man? One thing we know is that there is no question that Charles Berolzheimer has a true love for pencils. Yes, love. Need proof? Try this…..
By day, Charles Berolzheimer is President of the California Cedar Products Company, a company founded by his grandfather in 1919. CalCedar is now the world's leading manufacturer of pencil slats. While looking for a more responsible use of the sawdust from their mills, the company developed a product they may best be known for: the Duraflame log. Today, California Cedar Products is a large company of some 575 employees with several divisions and annual sales, according to Hoover's Online, in the 35 million dollars a year range. So, you're thinking, why is the president of this company selling things on eBay?
Love. A true love for the pencil.
Charles P. Berolzheimer II is known by other lovers of pencils as, "Woodchuck." And Woodchuck is pencil lover extrordinaire. To attempt to explain just how much pencils mean to Berolzheimer would be difficult. After all, pencils and pencilmaking are in his blood. Literally. Part of the family business is now a personal quest for the perfect pencil. Enter the Palomino. It may not be perfect, but it's darn close. The pencil has received rave reviews from Pencil Revolution and is quickly becoming a topic of choice among those of us who love all things pen, paper and pencil. Make no mistake, only a true lover of pencils could have conceived and produced such an incredible instrument of wood and graphite. Graceful. Beautiful. The Palomino is a pencil lover's dream.
President of California Cedar Products, California Republic Stationers – and now – selling his beloved pencils from an eBay store, Charles P. "Woodchuck" Berolzheimer II is an inspiration to those of us who walk in a deep sleep through jobs we only tolerate. His zeal for pencils doesn't stop with CalCedar, California Republic Stationers or the eBay store…..
Charles has a blog called Timberlines. It's a labor of love detailing his personal musings on pencils, forest management, his company and, "the artistic and written creativity enabled by the wood-cased pencil."
Charles, "Woodchuck", maintains a Squidoo lens appropriately called Pencil World. A must-visit at Squidoo.
California Cedar Products even has a coveted domain in the industry: pencils.com where they maintain The Pencil Pages.
And yes, that eBay store: The Pencil World Creativity Store. It's now open for business and Charles will sell you his beloved pencils. After you make your pencil purchase, don't be surprised when the emails you receive make it clear that you're doing business with the Pencil Man himself.
Now when you walk into the store and see those stacks of Duraflame logs? Now you know, at least part of, the rest of the story.