I've enjoyed Laurie's Plannerisms blog, but today she outdid herself with the post, "The Planner That Saved My Sanity: The Quo Vadis Trinote."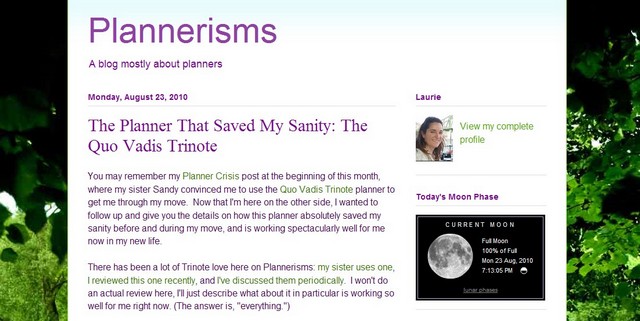 "You may remember my Planner Crisis post at the beginning of this month, where my sister Sandy convinced me to use the Quo Vadis Trinote planner to get me through my move. Now that I'm here on the other side, I wanted to follow up and give you the details on how this planner absolutely saved my sanity before and during my move, and is working spectacularly well for me now in my new life."
This is a must-read for those of us who love all things paper. I plan – pardon the pun – to make 'Plannerisms' a regular stop on my blog reading. If you like 'Paper Notes In A Digital World' — you should too.
I also appreciate her gutsiness in showing us large images of her planner in action; something I (cowardly) failed to do in my post last week on "21 Ways I Use My Notebook."
Great job, Laurie! The full post is here.