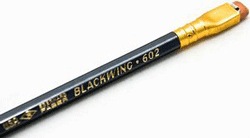 The boingboing blog recently reported that the much loved Blackwing pencil will be returning. I'm not surprised at who purchased the trademark: The California Cedar Products Company. I wrote an article back in February of 2006 about CalCedar and their pencil-loving CEO Chuck Berolzheimer II. He's quite a guy and I hope you'll read his story here in the Paper Notes archives. Unfortunately, I didn't import the comments from the old TypePad site (they don't make it easy — it would have to be done one-by-one) and there were some good ones on this post. Chuck even wrote and left a message:
Mike – Just checking up on a few of my favorite blogs before hitting the pillow here in Tokyo. Wow. Thanks for the great review.

Truth is if you think I have some passion for pencils then you wouldn't believe the dinner I just finished with our Japanese subcontractors for our Palomino product range. We were covering issues regarding our next production run and these guys spend incredible time discussing every last, very minute detail to assure it's going to get done right. True artisans. Just another interesting topic for a future post on Timbelines along with about 5 other things from this trip if I can get the time.
I couldn't be happier to see the Blackwing now a part of CalCedar. It couldn't be in better hands.

If you didn't catch the story of Chuck Berolzheimer back in 2006, I hope you'll read it now; it's easily one of my favorite posts: The Man Behind The Palomino Pencil.